Beaches in Prestatyn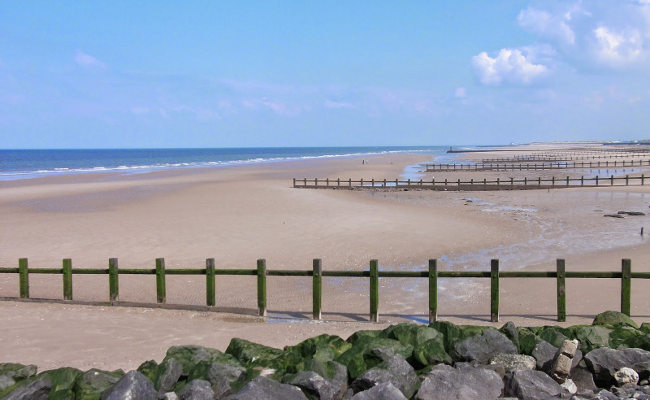 Just like the neighbouring Rhyl, Prestatyn is best known for miles of sandy beaches which attract both young and old, families and couples, watersports lovers and relaxation seekers,… And with summers being hotter, sunnier and drier than in most other UK seaside towns, Prestatyn is an ideal holiday destination. The town is famous for being located at the convergence of the Offa's Dyke Path and the North Wales Path which earned it the "Walkers are Welcome" designation. But most importantly, it made it very desirable for non-traditional holidaymakers including hikers, nature lovers and recreation seekers. But the majority of Prestatyn visitors are still attracted by its beaches.
Relaxation, Recreation and Fun for the Entire Family
Prestatyn has three major beaches, which combined, provide four to five miles of relaxation, recreation and fun for the entire family. Well maintained, clean and safe, Prestatyn beaches are perfect for all the usual beach activities that delight both young and old alike. In the immediate proximity are also all the basic facilities including cafes/restaurants, toilets, disabled facilities, etc. Last, it is also reassuring to know that all beaches are being monitored by professional lifeguards who are present throughout most of the day during the entire season, that is from mid-May to early September.
Overview of Prestatyn Beaches
The Central Beach is the most popular of the three Prestatyn beaches. It is especially popular with windsurfers and sailors who take advantage of the winds, while the promenade that leads to the other two beaches is very popular with cyclists, walkers, joggers and other outdoor enthusiasts. Dogs are not allowed on the beach during the season with the exception of specially designed dog exercise area.
The Barkby Beach is the most eastern of Prestatyn beaches and continues into the Gronant Dunes and Talacre Warren SSSI. It is very popular with windsurfers and sailors as well which means that there almost always some wind. During the season, dogs are not allowed on the Barkby Beach.
Sunbathing, swimming and other water and land activities can also be enjoyed on the Ffrith Beach which is open not only to holidaymakers and travellers but their furry friends as well. Throughout the year! Just like the Central and Barkby Beach, the Ffrith Beach is monitored by lifeguards as well.